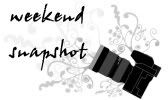 As the author says, everybody loves weekend, it is the time for leisure, recreation and other religious activities. And when everyone is having a grand time, you want to capture it and share it with others. That's why Weekend Snapshot is here for you. Come and join the fun here.
Another weekend spent with my in-laws. This is my MIL's mango tree. As you can see, flowers are starting to blossom, soon there'll be lots of delicious mangoes... yum yum.
Happy Weekend to all!