Happy Valentine's Day to all! And because today is the day of hearts I'm joining Metz over at Empty Streets 1027 in spreading the Valentine Love meme.
***start copy***
Rules:
1) Once you're tagged, install the corner banner at your blog as a third party html code. (The corner banner need to stay at your blog for at least 2 weeks).
2) Post about this meme, Valentine's Love.
3) Add your blog/s with link/s to the Valentine's Lovers list and leave a comment at this post HERE.
3) Tag all your special friends.
4) Please remember to update your list regularly so that you would not miss out anyone in your Valentine's Lovers list.
Corner Banner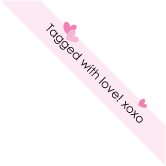 p/s:

The wordings on this banner with automatically changed to 'Tagged with Love! xoxo' on Feb 15. Please get the code here.

Instruction to install corner banner
(For blogger):
1. Go to 'Layout', Click on 'Add a Gadget'.
2. Select 'HTML/ Javascript', insert the html code above in the provided box.
3. Click 'Save'.
Valentine's Lovers:
***end copy***



I'd like to tag the following:

Sam @ Show Me Your Interest
Tina @ The Zoo Crew
Sasha @ My Own Utopia
Tina @ Mummy Diaries